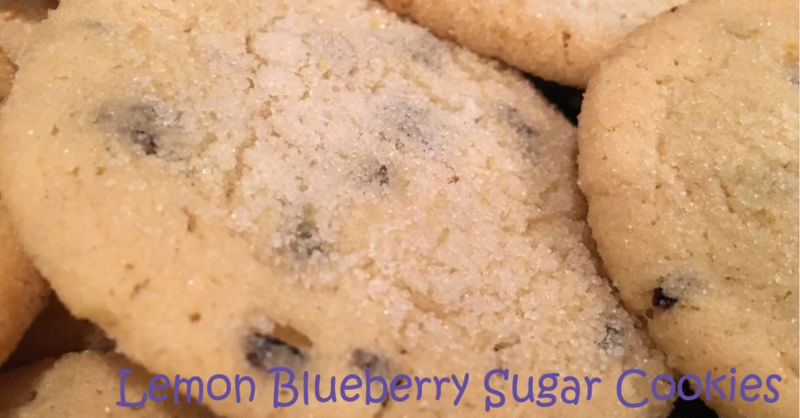 I am completely adicted to sugar cookies - I cannot turn them down but am often dissapointed in texture and flavor of anything mass produced and many home recipies. My favorite set of cooks and chefs over at America's Test Kitchen produced a great sugar cookie recipe with just the right texture and loaded with subtle flavors in their magazine Cooks Illustrated. For something a bit different I took their basic recipe and added the bright flavor of lemon and sweet blueberries for a summery flavored sugar cookie that we devour at our store and home.
Yields 18-24 cookies
2 1/4 cups + 2 Tablespoons all-purpose flour
1 teaspoon baking powder
1/2 teaspoon baking soda
1/2 teaspoon salt
Zest from one lemon (about 1 tablespoon) - divided
1 1/2 cups granulated sugar PLUS additional 1/2 cup for rolling
2 ounces cream cheese - room temprature
6 tablespoons unsalted butter (I prefer the amazing Plugra brand butter, which is a European Style but actually made in the USA.)
1/2 cup vegetable oil
1 large egg
1 tablespoon whole milk
2 teaspoons vanilla extract
1 teaspoon lemon extract
1 4 ounce package dried blueberries - coarse chop
Preheat oven to 350 degrees and put rack on top position. I bake on partchment paper always!
Wisk flour, baking powder, baking soda & salt in medium bowl
In small shallow bowl mix 1/2 of the lemon zest with 1/2 cup sugar - mix thouroughly and break up lumps - you will have mix this several times because the moisture in the zest causes clumping - might want to place in warmer part of kitchen to help evaporate the moisture a bit.
In large mixing bowl combine remaining lemon zest, cream cheese and sugar. Mix thouroughly but dont worry if it is lumpy.
Add melted butter to sugar/cream cheese mix and combine until smooth. Add vegatable oil, egg, milk and both extracts to this and stir thoroughly with each addition until a smooth even texture.
Add chopped dried blueberries and flour mixture to batter. Mix gently until combined and no dry flour remains.
take 1/4 cup portions of the batter and form smooth ball, roll in sugar/lemon zest mixture and place on partchment lined cooking sheet approximately 2 to 2 1/2 inches apart. I get about 9 cookies per sheet.
Using flat bottomed glass or measuring cup press ball down until about 1/4 inch thick
Dust tops of cookies with more sugar/zest mixture lightly
Bake 11 13 minutes at 350 Degrees. Cookies should look dry at edges and only slightly darker at edges - you DON'Twant to over bake to brown crispy.
Let Cool on parchment paper (on cookie sheet or off) cooling on the partchment retains lots of the moisture - once mostly cooled (15-20 minutes move to wire rack to finish.
Store airtight container - flavors meld overnight and are even better 2 and 3 days later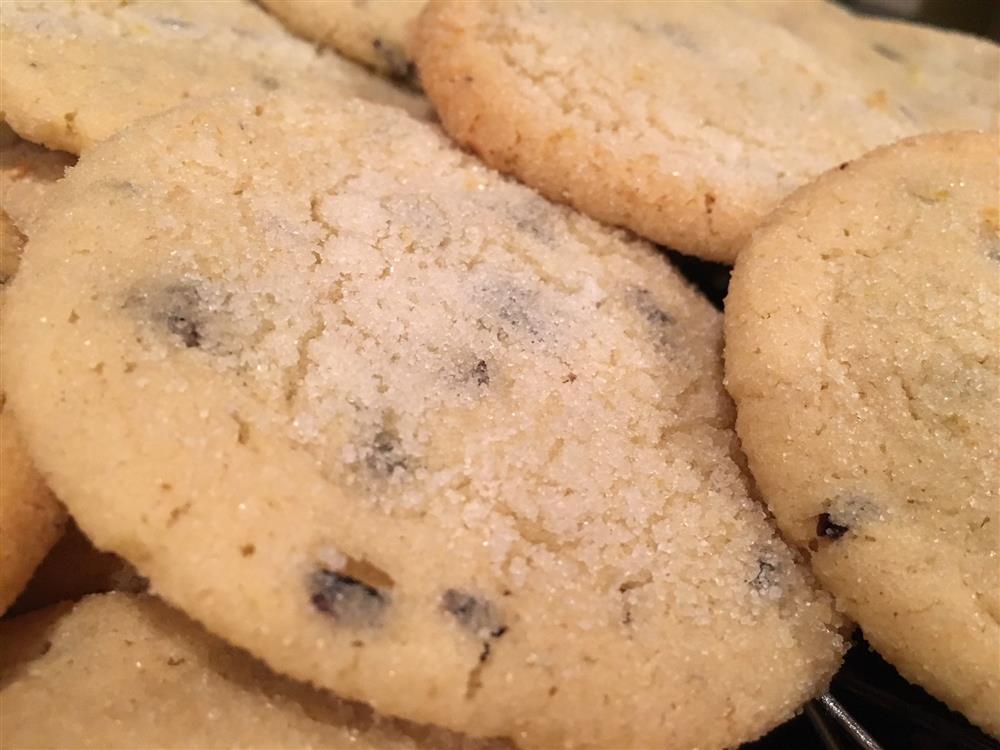 Comments (0)