I am a total foodie. I know the difference, at site, from semonlina flour and fine corn meal, can taste the difference between tellicherry and regular pepper, and make my own pasta, but struggled for a reasonably easy roast chicken for years. A couple of months ago we were flipping channels and landed on the 'Barefoot Contessa". Typicaly cooking shows bore me or move so fast that I can't keep up. This time Ina (Garten - the Barefoot Contessa) was making a roasted chicken and before I could change the channel she said something along the line of 'this is foolproof and simple and we do this 3 or 4 times a month"..... so I hung around.... and it is.
This recipe is definately hers, I make no pretense of claiming the basis of the recipe, but wanted to post it because it is just too simple and makes a delicious family meal.
What you need:
One 5 pound roaster chicken
Salt (I like Kosher because it is easier to pinch and season things with)
Freshly ground black pepper
1 large bunch fresh thyme, plus 20 sprigs - use fresh - almost always available at the grocery
1 lemon, halved or quartered
1 head garlic, cut in half crosswise
2 tablespoons (1/4 stick) butter, melted
Olive Oil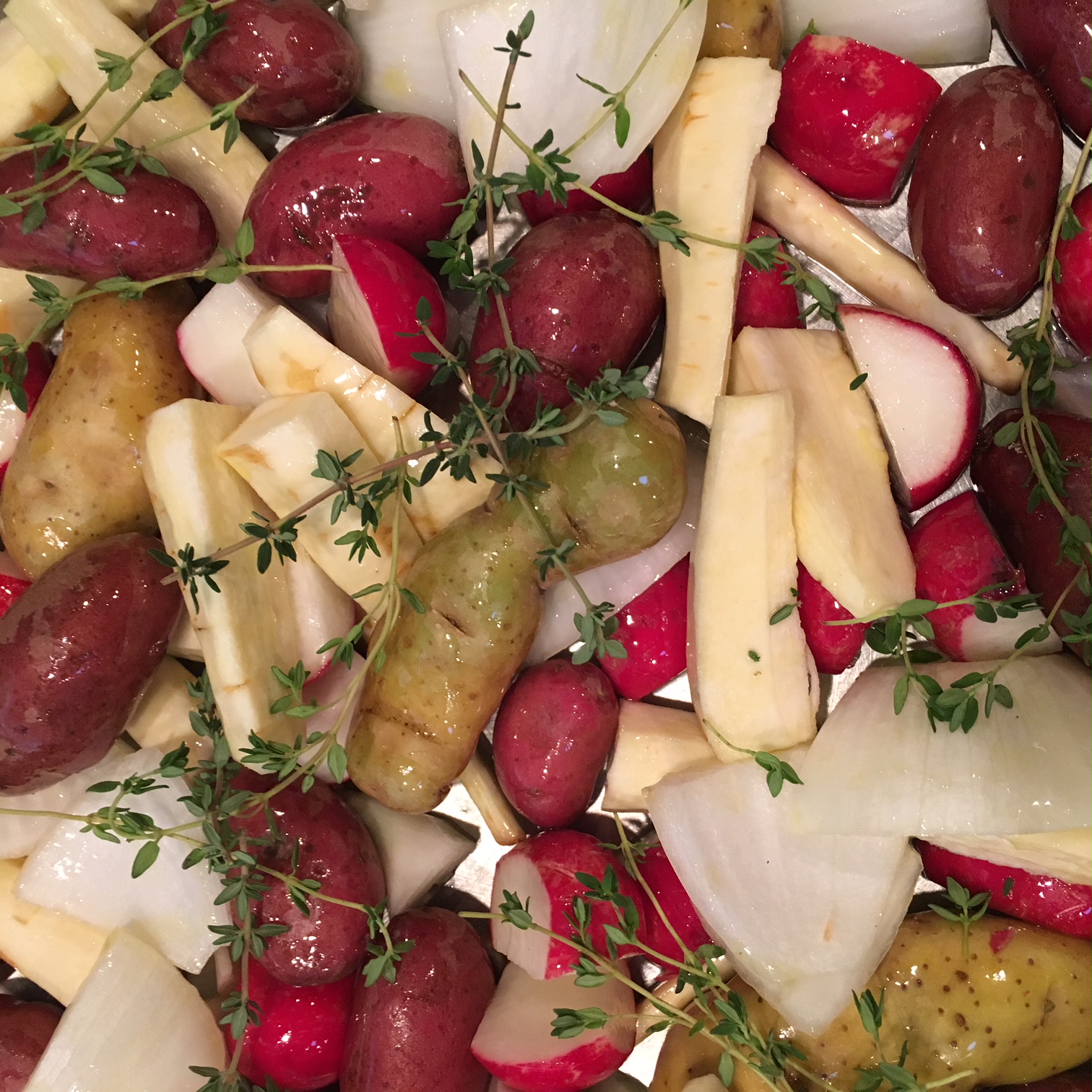 This is where I am going to diverge from the printed recipe a bit. On the Food Network site the vegtables that are recommended are very clearly spelled out (1 large yellow onion, 4 carrots and 1 bulb of fennel) - this makes a great vegatable collection upon which to roast your chicken but I found you can use just about any root vegatable and some non-standard ones make for some of the most interesting dishs. What ever you choose you need to cut the root vegatables up into appox 1"-2" thickness. I would definately include at least 1/2 a large onion but the rest can be what excites you at the grocery. Tonight I used radishes, parsnips and fingerling potatoes. You want about 4 cups of vegatables. I'll write the rest of the recipe according to how it was served tonight and you can view the original over here.
1/2 large yellow onion, thickly sliced
12 medium radishes - stemed and halfed (leave the red skin)
4 parsnips, peeled and cut into 2 inch pieces (parsnips have long skinny roots that will over-caramelize in the roasting so keep the cut sizes pretty generous)
16 fingerling potatoes (mixed colors)
I have used all kinds of root vegatables so you really cant go wrong, but if you have never had a roasted radish or parsnip I would recommend using one or the other in this dish.
Procedure:
Pre-heat oven to 425 degrees - set rack to middle position in oven.
Rinse whole chicken - remove and discard giblets if included. Pat dry.
Use a generous amount of salt and pepper to season inside cavity of chicken
stuff cavity of chicken with pieces of whole lemon, 10 whole sprigs of thyme and garlic pieces
Close cavity and tie legs together with kitchen twine. You will want to prep the chicken breast side up (as shown in photo). The legs will be trussed together and you can tuck the wings up and around underneath the body to secure (see photo).
In large roasting pan scatter the vegatables. Drizzle about 1 tablespoon of olive oil over the vegatables and toss to evenly distribute. Add the remaining 10 sprigs of fresh thyme. (I use a large staniless steel skillet instead of a roasting pan - you can use just about anything)
Place stuffed and trussed chicken directly on top of the vegatables, breast side up and with wings tucked under the breast.
Brush melted butter all over top of chicken and season with a few grinds of pepper and a sprinkle of salt
Roast in oven 1 and 1/2 hours.
Remove Chicken to carving board and cover with foil. Let sit at least 15 minutes.
Revove vegatables to serving platter with slotted spoon and cover lightly with foil.
After Chicken has rested for 15 minutes - carve and place pieces on top of vegatables on the serving dish.
EAT!