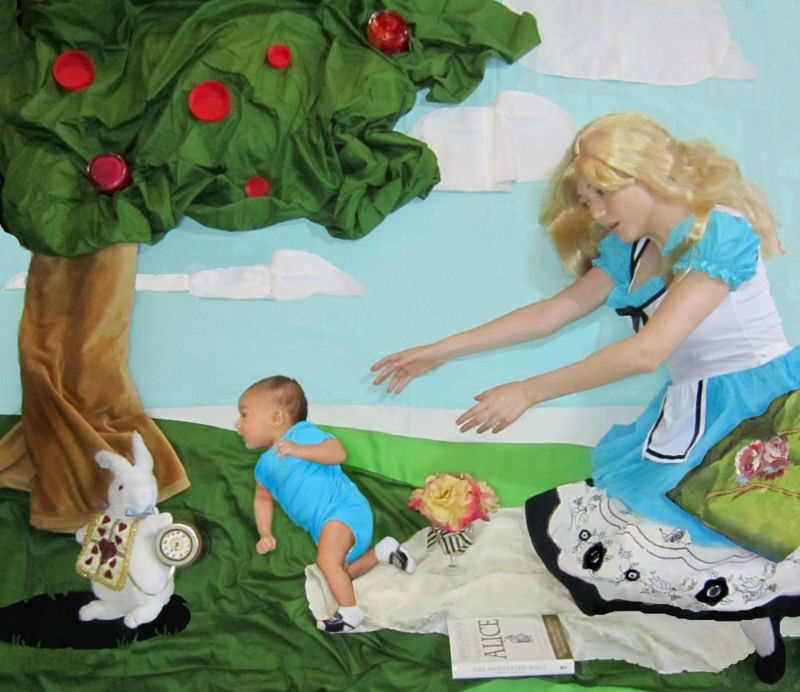 We just love creative documentation of your new little ones first years. New and first time mom, Elise, has taken some time off work to raise her cutie-pie son, Gio. Well sometimes all that baby stuff lying around the house just becomes inspiration (especially for an artist). Elise decided to take us all on an adventure.She writes:
"This is what happens when an artist becomes a first time mom! Baby Gio travels to fantastical places in a weekly saga of DIY photo art (collaging household items, e.g., sheets, dishes, baby, etc.)... When I donned the wig to play "Alice" and made my husband take the photos, we both cried with laughter. Yes, I have totally lost my mind. But we're all mad here, aren't we? Or we wouldn't have come here. :)"
What we love about this is the effect in the final composition is stunning and the components used to create this beautiful picture are hardly recognizable. Candles and jar tops function as apples on the tree, changing pads. Shower curtains and blankets take on the life of grass and trees. It is all just stunning and so clever. We will have to keep an eye on her adventures over at her Elise in Wonderland Pinterest page.
"Little known fact: the reason why Alice went down the rabbit hole was because she was chasing her 10-week-old baby, Giovanni Everett."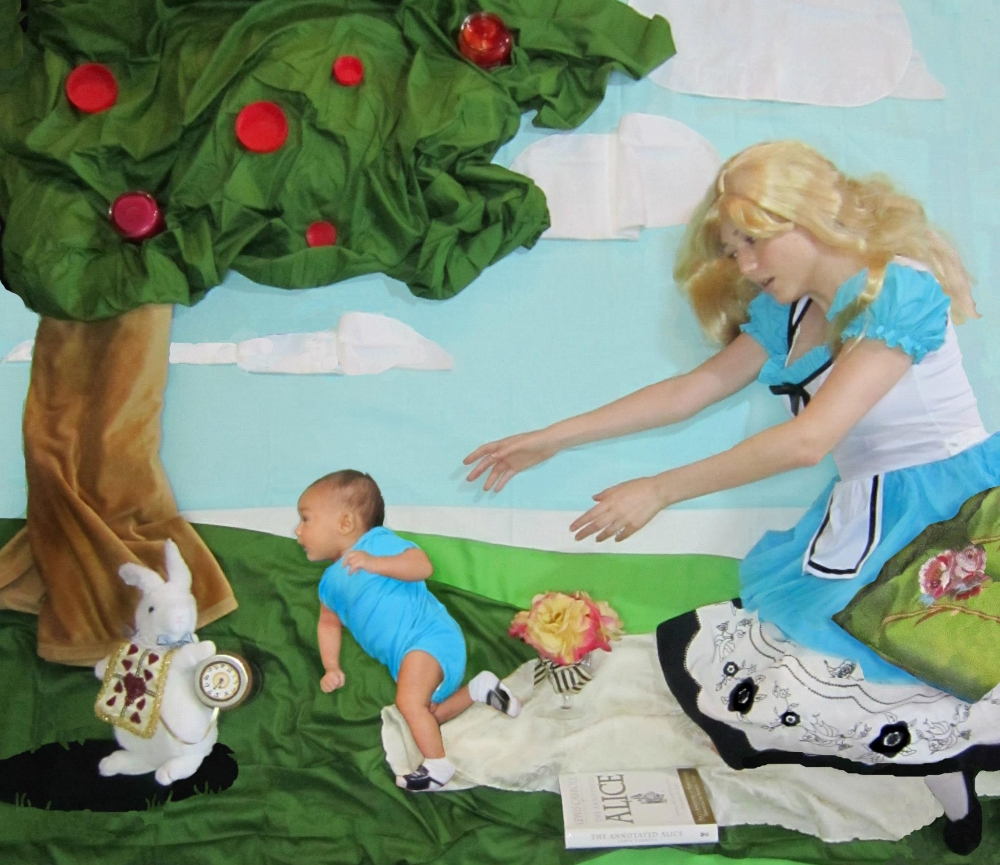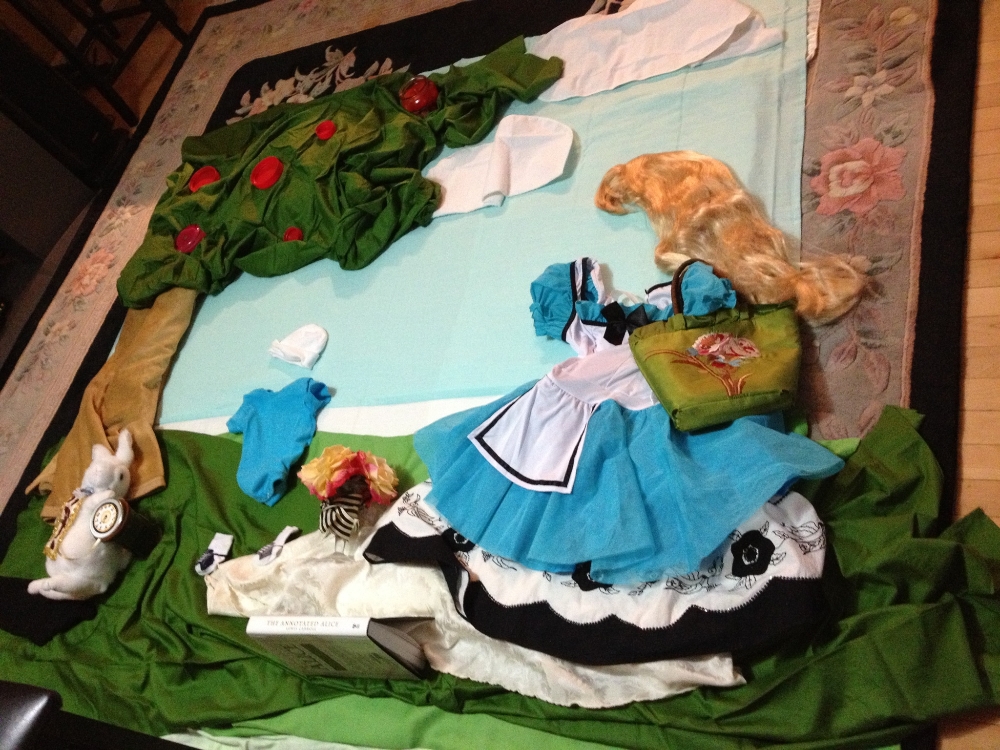 Gio and the Mad Hatter:
Baby Gio was quite pleased to join the Mad Hatter in celebrating his unbirthday, which just happened to fall on April 29th, the day Gio turned 11 weeks old. Alice had been sitting in the extra seat, but she drank out of the wrong cup, and grew too large for the table. Made by me, with: table cloth, shower curtain, window curtain, bed sheets, napkins, dress socks, an old beach towel, hair barrettes, tea set, teddy bear, mouse toy, vines, baby bottle, and construction paper. Starring Gio and Ian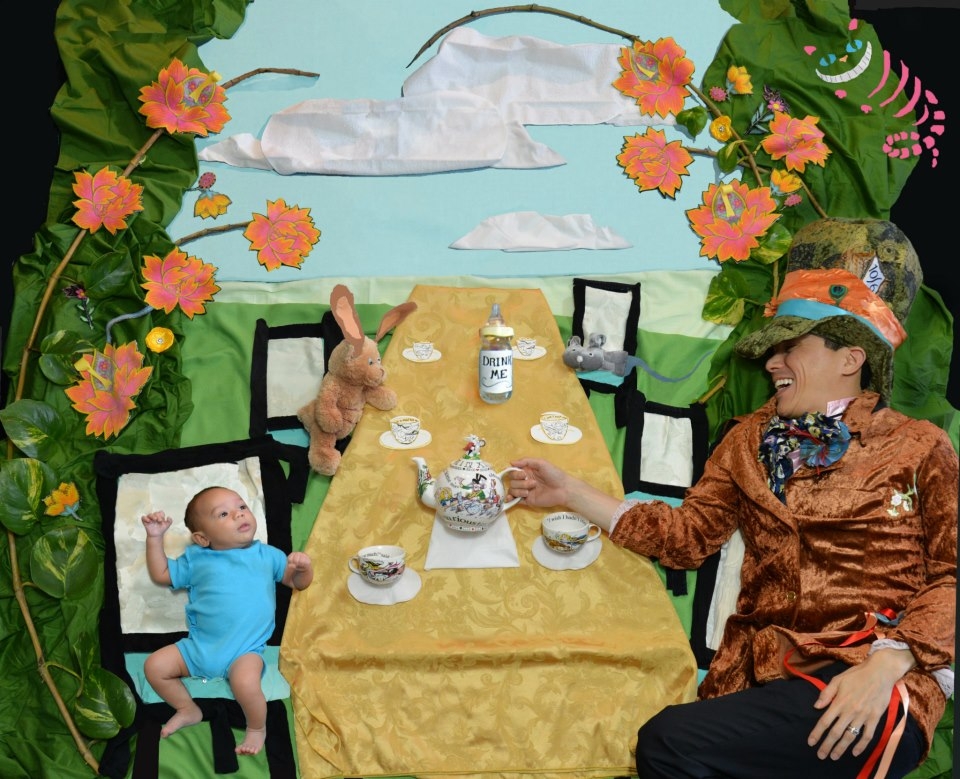 Gio in the Garden of the Queen of Hearts:
At twelve weeks (which is not at all the same as 3 months), Baby Gio wandered into the garden of the Queen of Hearts. Made by Elise Ippolito using napkins, bird statue wrapped with tissue paper, halloween costume, Venetian mask, two stuffed animals, silk flowers, clothing, jewelry, curtains, sheets, window drapery, pipes, envelopes, potted tree and a broomstick.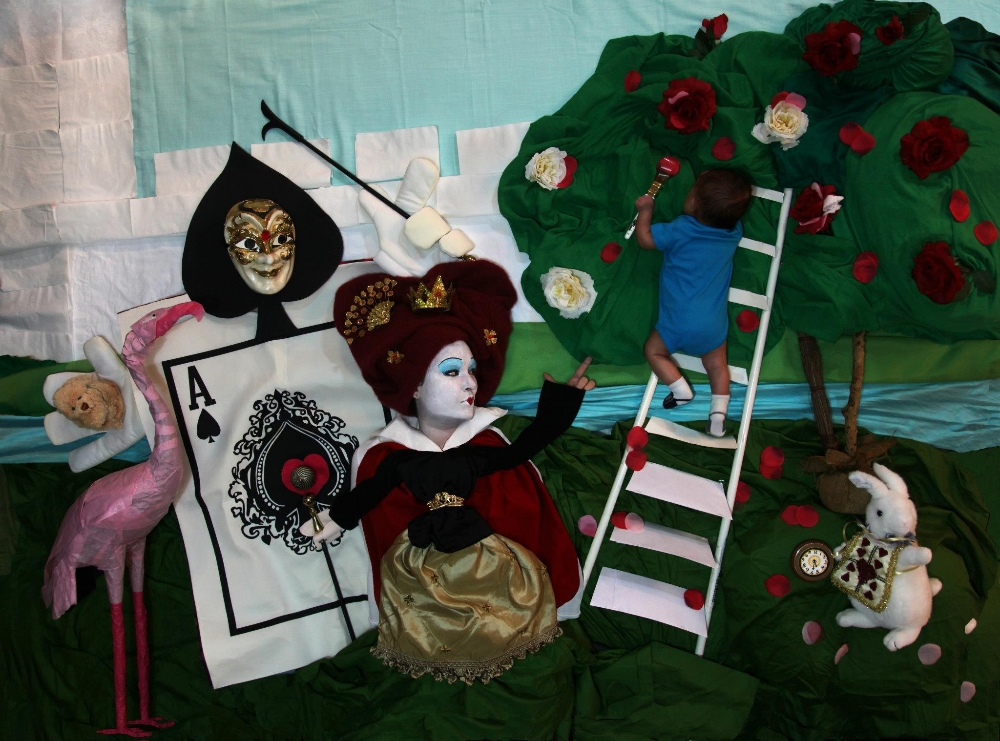 Gio and the Magic Beanstalk
Brave little 13-week-old Gio found some magic beans while in Wonderland, and put them to good use... Picture made by Elise Ippolito, with "elephant ear" vine, blankets, sheets, gauze, dress, shower curtain, changing pads, and gold plated serving cup. Starring Gio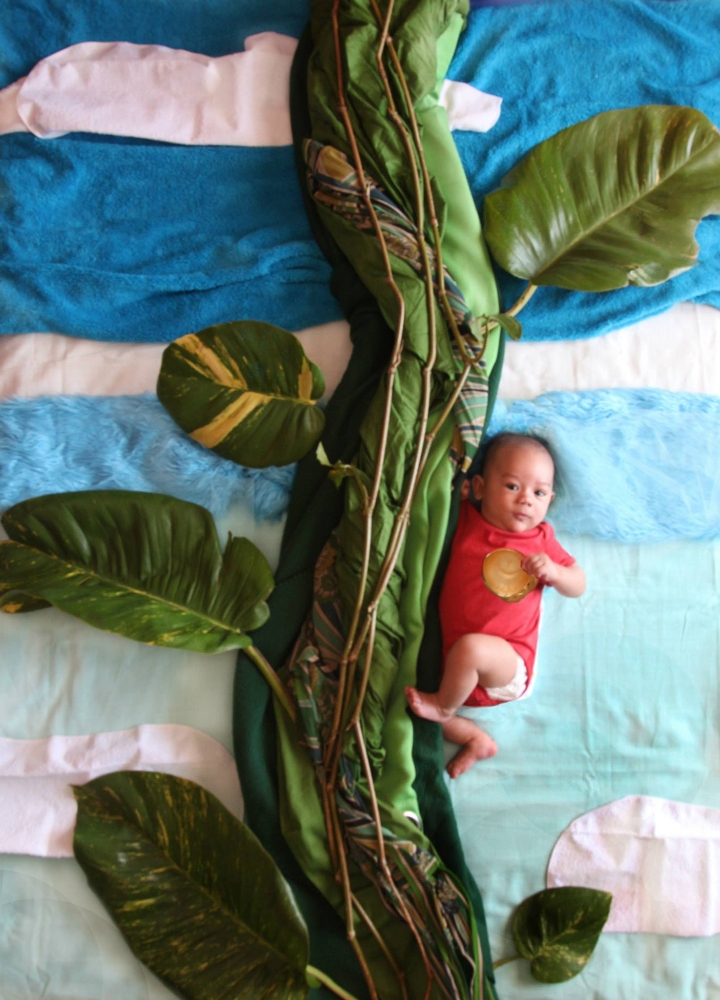 Gio Meets the Giant while trying to get a Golden Egg
14-week-old Baby Gio isn't afraid of that Giant, or the Goose, and fully intends to make off with the Golden Egg, even if it is a bit heavier and larger than he'd expected... Made by me with fuzzy baby blankets, gold tablecloth, oval serving dish, a coil of rope, several sheets, and elephant ear vine leaves. Starring Mr. Gio and his daddy, Ian, as the Giant.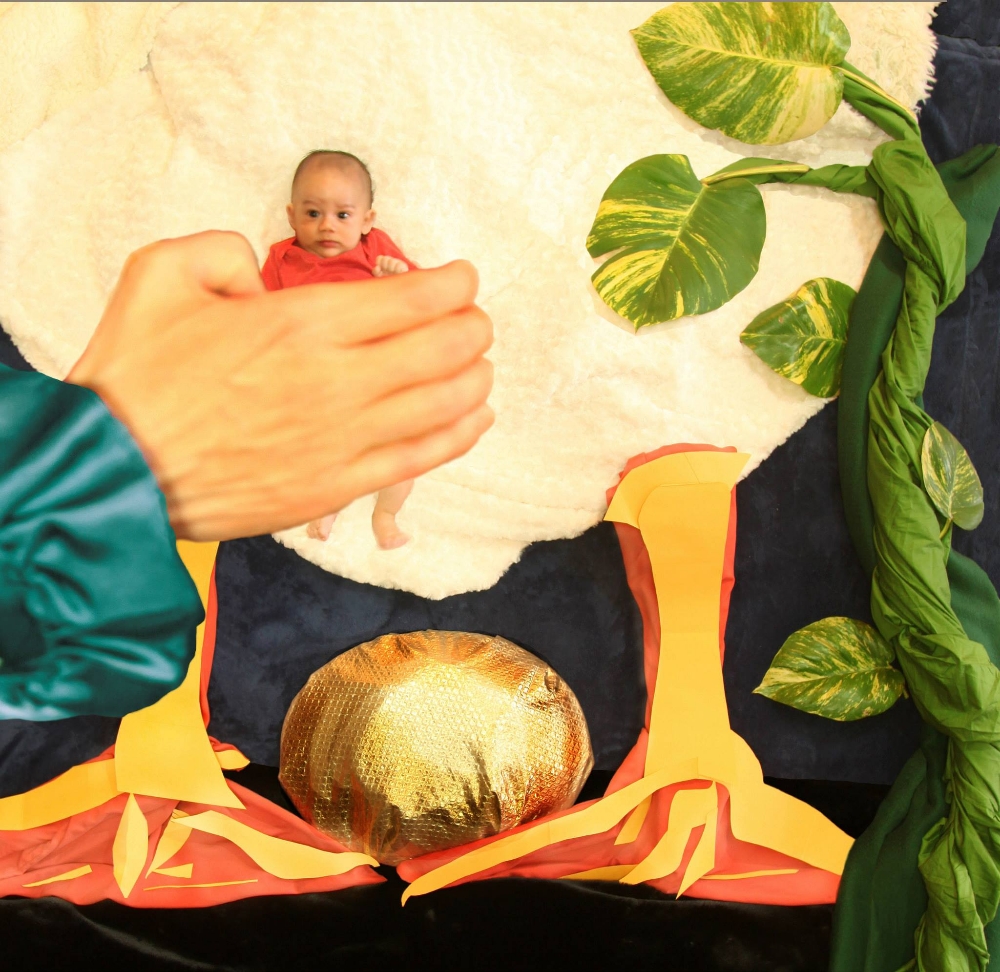 Gio on the Magic Carpet
Gio is off again. I guess we are gushing about this alot lately, but we just love when someone's passion for their child becomes a visual testament:
Gio, now 15 weeks old, escaped the Giant with the help of a magic lamp, and made a couple of new friends in the process. Made with: blue towel, carpet, more towels, belt, a multitude of clothing and sheets, sash, ribbon, gold card stock, monkey hat, construction paper, swaddle, and actual authentic Egyptian lamp. Starring Gio
One of our favorite things about this artist is her self deprecating humor about the project in general. Some comments she made on the original image she posted on facebook:
You can tell it's not a professional's work, because you can see the zippered fly of the pink jeans in the top right cloud! Gio cooperated amazingly, though. I was also really pleased with getting a Genie-shape out of the one blue towel we owned.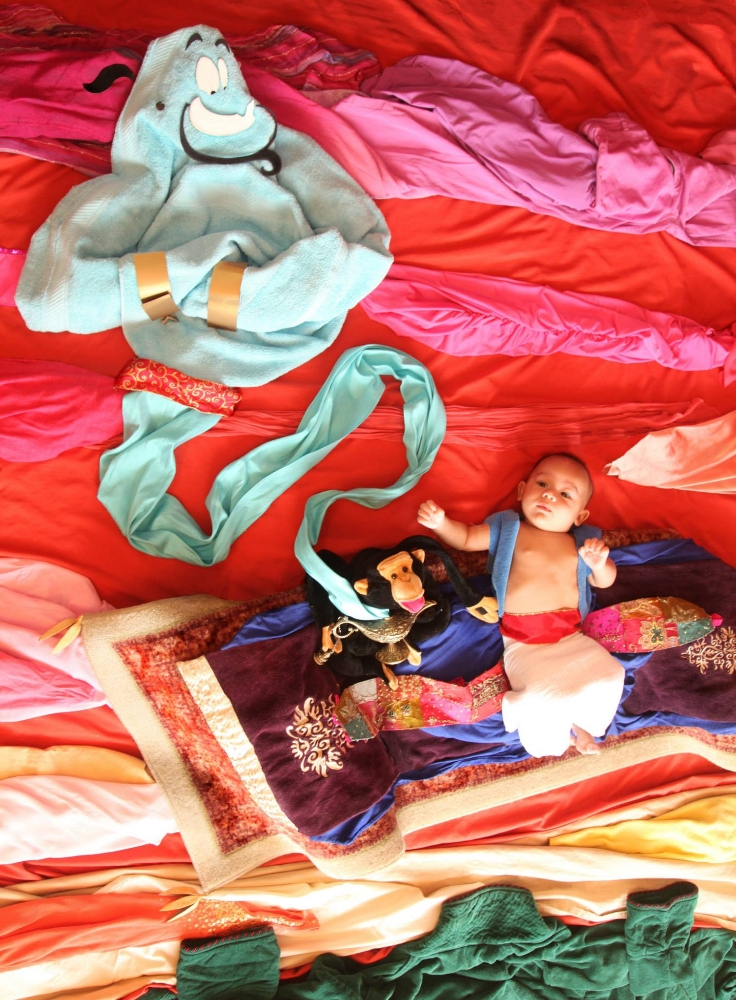 ]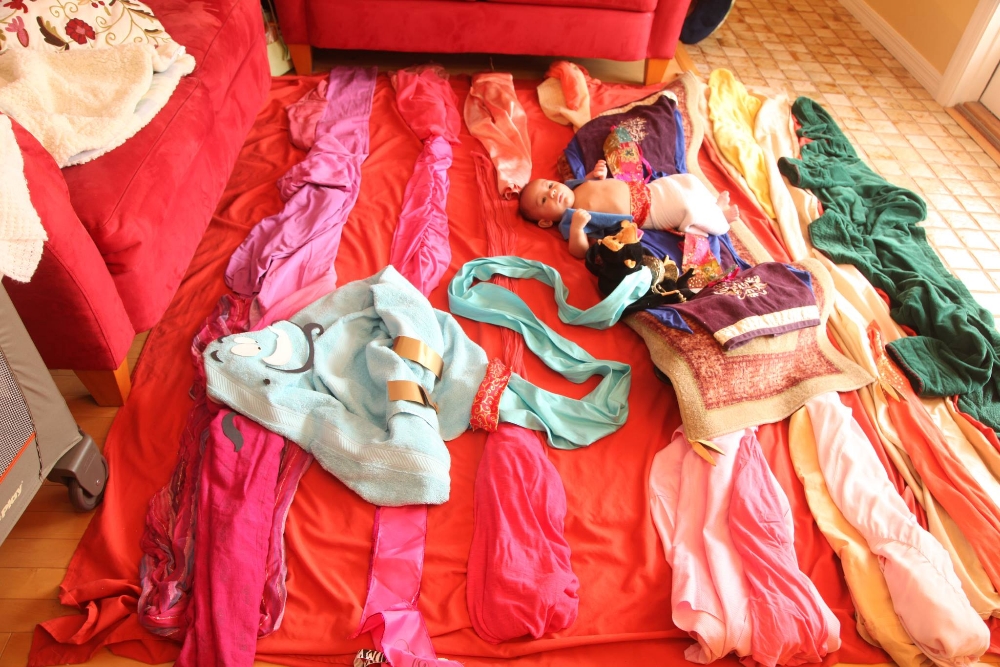 Comments (0)